More than 1.22 million yuan raised in the Perfect Pregnancy Charity Gala
On the evening of December 6, the charity gala with the theme of "Dedicating Love and Caring for Life", hosted by Shanghai Soong Ching Ling Foundation, was held in Shanghai Peninsula Hotel. More than 300 loving people generously raised 1,223,799 yuan for SSCLF's Perfect Pregnancy Special Fund through charity auction and other means.
With the special attention to women and children, SSCLF has set up more than 40 special funds in maternal and child health care, student and teacher assistance, children's culture and other aspects, including the Perfect Pregnancy Special Fund officially established in early 2019 with the goal of helping women who have trouble in gestation to realize their dream of being mother. Since this year, the special fund has supported seven patients with trouble in pregnancy, each of whom received medical subsidies ranging from 26,000 yuan to 30,000 yuan, relieving their economic and psychological pressure.
The charity gala has been greatly supported by loving people and organizations, donating a total of 30 pieces of auctions including inscriptions, Thang-ga, handicrafts, antiques, etc. The fast bidding and the settlement of donation climaxed the event and warmed everyone's heart. It is reported that all the money raised at the gala will be used to help poor people with difficulties in pregnancy, thereby passing on the love.
Mr. Jia Yong, SSCLF's acting secretary general, attended the event and delivered a speech. Mr. Mo Hualun, a tenor singer, and Mr. Kong Xiangdong, a pianist, gave wonderful performances.
Mr. Jia Yong, SSCLF's acting secretary general delivered a speech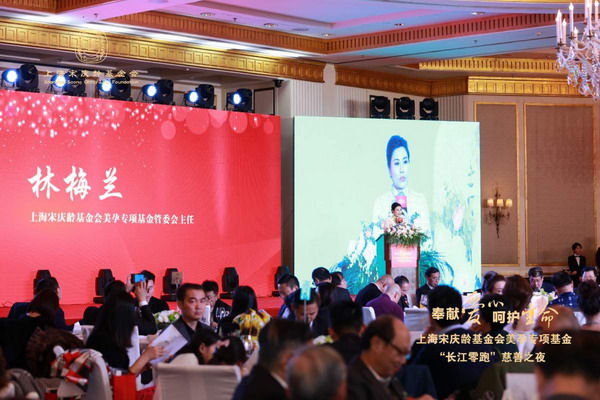 Mrs. Lin Meilan, director of the Management Committee of SSCLF's Perfect Pregnancy Special Fund, gave an address
Mr. Tong Yingqiang, a calligrapher, presented an inscription on site
The fast bidding in the loving atmosphere